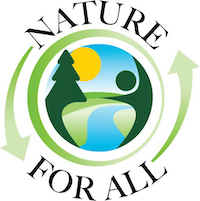 The Nature for All Project is a project of inclusion.
Over 17 percent of Ottawa-Gatineau residents have a disability. In Canada, the number of Canadians with disabilities will grow to 9 million – or one is five of us. Unfortunately, it is often very difficult for persons with disabilities to visit and enjoy nature.
Our goal is to make their Baxter Conservation Area fully accessible and integrated, providing opportunities for all looking who want to experience and enjoy outdoor education and adventures in a natural wilderness setting. We will be designing accessible features for persons with vision, hearing, mobility, intellectual disabilities and persons needing literacy considerations. This multi-phase development of the Baxter Conservation Area will examine and upgrade our trails, boardwalks, programs and activities, the Patrick McManus Centre and other building structures and constructed features on site (parking, picnic tables, benches and camping areas.
The Nature for All Committee
We are a community-led committee working in partnership with the Rideau Valley Conservation Authority (http://www.rvca.ca) and the Rideau Valley Conservation Foundation. We are community champions and like-minded conservationists and adventurists, including people with and without disabilities.
Committee Members
Dan Cooper, Vice Chair
Diane Downey
Wendy Eberwein
Mike Nemesvary, Chair
Mike McCloskey
Mary Anne McPhee
Scott Moffatt
Thanks to our Current Supporters and Partners