Bridging the gap to an accessible park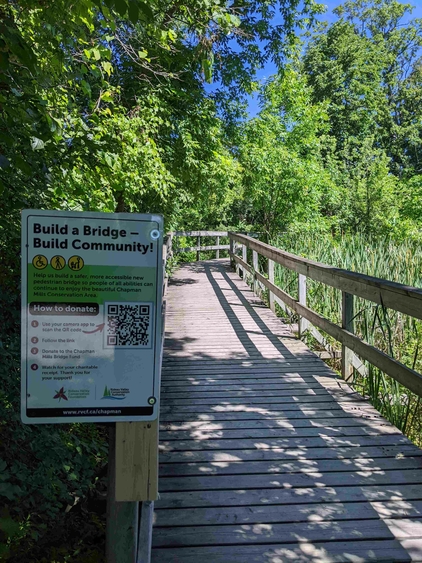 Chapman Mills Conservation Area is your peaceful outdoor oasis, serving the communities of Chapman Mills, Riverside South and Barrhaven. It's a welcomed escape for fresh air, family picnics, invigorating hikes and access to the historic Rideau River.
Since 2002, the site has supported outdoor recreation opportunities while communities swelled nearby. Free to everyone, the site offers trails, docks, picnic shelters, benches and welcomes more than 151,000 guests annually. Chapman Mills has been there for the community, but we need your help to ensure we can continue to provide accessible community space.
Help build a bridge
Much of the site's infrastructure has been upgraded over the years. But one small but vital piece needs our attention. The last remaining wooden bridge needs to be replaced. And now, it is time to build a safe and accessible bridge that will bring gold-standard age-friendly and accessibility features to our public trail.
Our new bridge will be a permanent, engineered, steel-framed bridge bringing lasting benefits to the community. Without it, we can't continue to provide much-needed community access to safe outdoor recreation opportunities for improved physical and mental health.
Help support construction!
One Boardwalk Plank
$ 25.00
support our cause with a symbolic plank purchase
includes charitable tax receipt
Two Boardwalk Planks
$ 50.00
support our cause with a symbolic plank purchase
includes charitable tax receipt
You Decide!
Thank you!
we appreciate your
support
includes charitable tax receipt